Ducati Desmo 350cc 1974
This is the front-disc brake model. Completely original bike in near immaculate condition which I have owned for nearly 20 years. This bike was bought by myself from an Italian collector in Bologna, Italy and I have all the original documentation and paperwork. Always kept in dry storage and only started occasionally. Never taken out on the road. There are couple of minor blemishes on the exhaust and rear springs. A very sought after bike, currently unregistered and still on Italian plates. Viewings and questions welcomed. Asking price is £10,995 Ono.
1974 350 DESMO
Engine no. DM350 18269
Frame no. DM350D 400688
Speedo reading 802 Km (500 miles)
Original italian registration document showing original and 2nd owner (GIANLUCA CUZZANI) also correct frame and Italian registration number.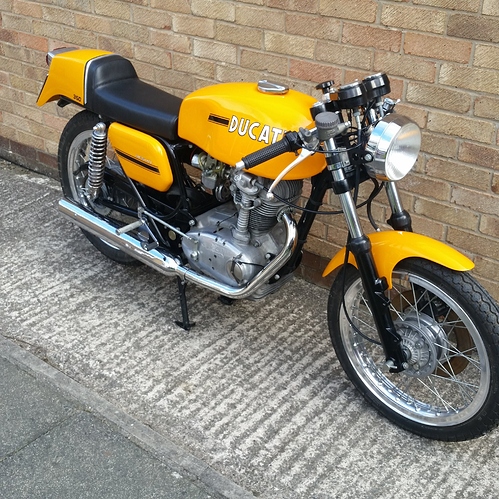 Certificate of ownership in name of (GIANLUCA CUZZANI) from Italian automobile club showing correct details.
Notarised bill of sale from GIANLUCA CUZZANI to Mr. Baden Wolsey dated 10/03/1999 showing correct details.