I've just put a pair of Mikunis from a 900SS on the venerable old Paso, but I'm struggling a bit with the various connections.
I know that the fuel pipe connects to a black plastic T-piece between the carbs, but there's two of 'em! One is a little larger and is pretty much level with the float bowls, and the other is slightly smaller and on a level with the bottom of the throttle slides. I've put a couple of arrows on the attached photo to point them out.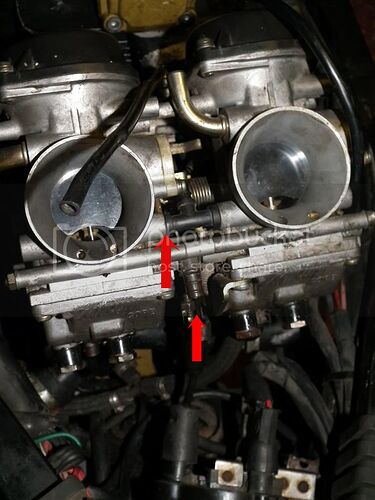 Anyway, what I need to know is which of these is the actual fuel inlet? (I think it's the lower one) And what does the other one do? And where should it be connected to? I've got visions of hitting the starter button and the whole thing going up in flames fed by the fuel pump until the juice runs out!
Also, there are a couple of large brassy coloured tubes (you can see one exiting just above the right hand slide) that don't have any obvious function. Should they be connected to anything?
Having just bunged 'em on and hit the starter button it just farts and bangs at the moment, but I'm sure it only needs a little tweak to get it to go crobba crobba like it should. Any help appreciated.