So, anyone got any thoughts on this model? Or has it slipped past the DOC GB members radar?

i was going to say I think it would look cracking with a Merlin F2 attached, leading links and 15" wheels. But then I decided to have a proper look.
The straw poll carried out here at Didcot desmo towers ranged from "i don't like that" to Hmmm er oh dear, who on earth is going to want one of them" to my comment which was "It looks like the sort of thing Guzzi would come up with"
I'm sure they know what they are doing and it will grow on us?
Make a good sidecar tug though eh?
found some more pictures here at hellforleathermagazine.com/2010/ … -the-bone/ having seen them, I like it even less. Still its all in the eye of the beholder as they say!
Thank you, Keef, yes I can see it with a sidecar etc! Apparently those who have seen the bike at the Milan show / in the flesh have positive comments about it, some people even having changed their intial views about it once seen. Think I'll wait to see it / ride it before making a comment

Go on say what you want, its only between you and me!
… and a few others! (Where are they???)
Have they taken on an unemployed HD designer?
Sticking a sidecar on it should improve the looks of it.
Unlikely to be eating my words when I have seen a real one.
YUK.
Just seen an excellent Diavel comment on the internet, "as camp as a field full of tents"
Yup I can see Rob Halford on ne now!
It is aimed at a completely different market, is it better than other Harley types, yes !! This is what they are aiming for, a lot of Ducati owners also own a Harlyey, they can now have one that goes, stops and corners, a few dealers have taken deposits, I would think in the States it will be hugely popular.
Hi Keef,
Jilly might not want to say what she thinks and Martyn seems to be towing the party line, but I will !
…and I think it's bloody awful, I can see where you're coming from though loads of power to pull a chair and it does look like one of Guzzi's poor attempts to open up new markets for their old tractors!
It could be a good source of a powerfull/grunty motor to build a special*, I predict them having the sort of re-sale value of a little used Indianna in the not too distant future.
There I've said it now !
That's any chance of me going on a free Ducati junket gone out of the window,
like that was ever going to happen.

*A bit too much power for the 851/888 chassis, as the limit for one of those is around the 140 rwbhp mark, but could well make a very fast 748/916 based bike.
Of course if you're into 'Pig Ugly' bikes you could always bolt the motor into a 999.
Steve R
Southern R
Almost agreed with you there untill you started slagging the 999.
leave orf 999
Northern R
Anyway th big news this week is Ducati have anounced a range of extras for the diavel…
Hi Northern R,
I thought I'd catch at least one fish with the last bit of my post.


How's it all going with you and Anne, I hope all's well with you both?
I've kept most of the weight off, still 3 + 1/2 stone lighter than I was when we stayed with Spaggy at the TT.
Nessie's lost a bit of weight as she's now been fitted with a complete Titanium ankle and her heals been fused using Ti' bolts, she's worth more in scrap now !
Steve R Southern version
Hey, I am towing any line it is my opinion !! Wait till I get you into bed again Mr R (Southern)
do you mean 'towing the line' or 'toeing the line', Martyn?


Hi Martyn,
It's not going to happen mate, people who kiss and tell don't get a 2nd chance.
That's only two fish from one post, I must be slipping.
On another note do you remember saying that I could have the now defunct 851 membership number?
My memberships been renewed since then but I've still got my old number?
I'll be gutted if someone else has now got it.
Steve R
They have not got it, thanbks for reminding me, I will have to speak to Frank of course.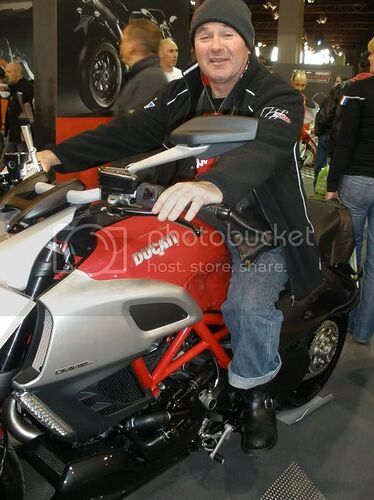 [size=150]The only good thing about the Diavel is that Pete could reach the ground.[/size]
[size=150]I held my opinion until seeing one. After going to the bike show yesterday I have to say I don't know what Ducati was thinking!! Pete and I where of the same opinion it is hideous and cheap looking.
But I suppose it will appeal to someone. People that saw it at the show while I was there didn't seen to think it was right for Ducati. Although most that sat on it said it was a comfortable riding position. One lady that sat on it said "could it be lowered"!![/size] [size=150]
It will be interesting to see how it rides. I will let you know my thoughts after test ride.[/size]
Saw the bike in the flesh yesterday, OOPs not fussed on it but there again they have joined all the other manufacturers in making pig ugly bikes. Should sell ok in America, but their not fussy anyway. Heard someone say they liked the back end and someone else said at least they trying to be differant.
More pre orders than Multistrada, what do we know !!