Not the greatest picture I've ever taken, but it is of our Webmaster!!!
this one also in the VMCC parade lap.
Yup, this is a Moto GP bike being "Paraded" past the Bungalow before hitting the rev limiter as he went through the box up Hailwood rise!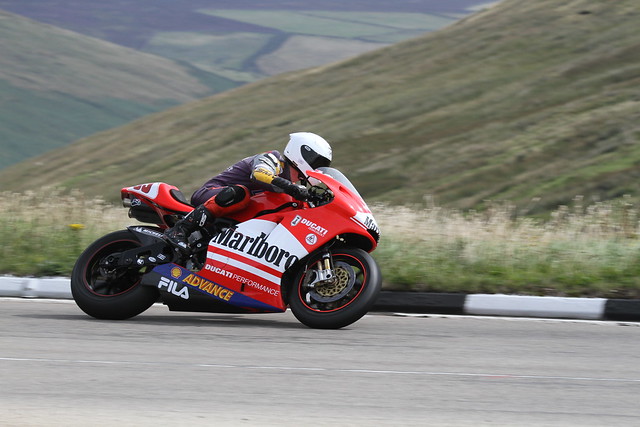 That was indeed me having a huge amount of fun on the parade lap. The bike behind is my 900GTS being ridden by a friend. I think Martyn is trying to reserve it to ride next year

Although it was a speed controlled lap I was doing over 100mph in lots of places



Cheers
Steve P
I think we ought to have the pic of our webmaster in the next 'Desmo'!
Great pictures, yes definitely bagged for next year.
Just arrived on the forum as a newby and saw these pics of me a few years ago ! I feel like it's my own personal welcome

BTW thanks to Steve for loaning me the GTS which also went over the 100mph once or twice that day

Welcome to the forum and it was a fun "parade".
This year I am doing it on my 851 and there is at least 1 other 851 I know will be doing it.
Got a friend from Canada riding the Pantah I was riding in the picture above.
Webmaster Steve
What is the age requirement for the Parade Please?
My 900SS will turn 21 on 1st August this year.
Steve B
North Lincs.
Bikes have to be at least 25yrs old to qualify for the parade.