This may look a bit complicated, but it's how I've worked out my race dates for 2009.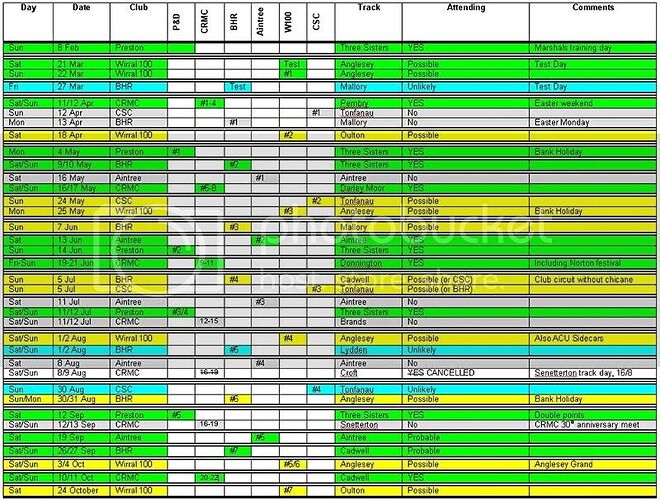 Colour coding is:
Green - definite (until my plans change!)
Yellow - possible
Blue - unlikely
Grey - not planning on doing these ones (at the moment)
White - cancelled (Croft was a green until they had a court ruling reducing the number of race weekends due to someone nearby objecting to the noise!)
Clubs are:
P&D - Preston and District MCC - I plan on doing all 5 rounds.
CRMC - Classic Racing Motorcycle Club - I plan on doing 4 of the 6 remaining rounds. Unfortunately Croft has been cancelled.
BHR - British Historic Racing (VMCC) - I'm plan on doing the Three Sisters round, then I'll see if BHR is going to replace CRMC in my calendar.
Aintree - Aintree MCRC - I'll do a couple of rounds at Aintree. I might do round 4 now that Croft (CRMC) has been cancelled.
W100 - Wirral Hundred Motor Club - My first meeting is with Wirral, I'll decide later on if I'm doing any more with them.
CSC - Crewe and South Cheshire MCRC - I might do a meeting at Tonfanau just to see what it's like, possibly the one in May and combine it with a trip to Anglesey.
I'll keep posting on the forum as my plans develop / change!
Cheers,
Roger